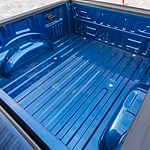 Some things get stronger over time. The Ford F-150 was built tough when it first rolled off the ramp. The evidence can be seen in its performance. Whether you are towing a heavy load, or exploring rough terrain, the popular full-size pickup truck is like the friend that will help you get the job done.
Carrying a heavy payload is no worry for F-150 owners. The aluminum alloy body of the truck is military grade, and capable of carrying up to 2309lbs. The towing capacity is no less impressive, transporting up to 13,000lbs on its superior-performing 3.5L EcoBoost engine.
We at Fremont Ford invite you to come in to learn about the many ways the F-150 can help you improve the way you do business. Take it for a test drive so you can see just how much it can enhance your job performance. It comes with smart technology that empowers you on the road. With the F-150, you do more than just drive a dynamic pickup truck. You maximize your productivity every time you put it to work.