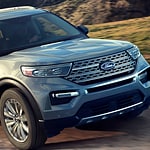 Ford Explorer's immense popularity in the three-row SUV category is easy to understand. Explorer is roomy, handsome, high-tech, efficient and big on performance. It goes from urban sidewalk to off-road adventure without a glitch, towing thousands smoothly and safely. Take the following two performance features selected by our Fremont Ford team.
Selectable Drive Modes
Ford built Explorer to go just about anywhere, to do it safely and with maximum control at the driver's hands. Its Terrain Management System enhances this possibility. The system entails selectable drive modes that optimize Explorer's drivetrain and braking to meet the unique demands of any city or off-road scenario. Plus, with a mode selected, you only have to worry about navigating, not pressing nobs or shifting gears.
10-Speed Transmission
Explorer's transmission expands on transmission setups in previous generations, going from six-speed to 10-speed. This innovation makes for heightened responsiveness and smoother shifting with no lag.
Feel Explorer's smooth, efficient performance today with a test drive at our dealership. See you soon.