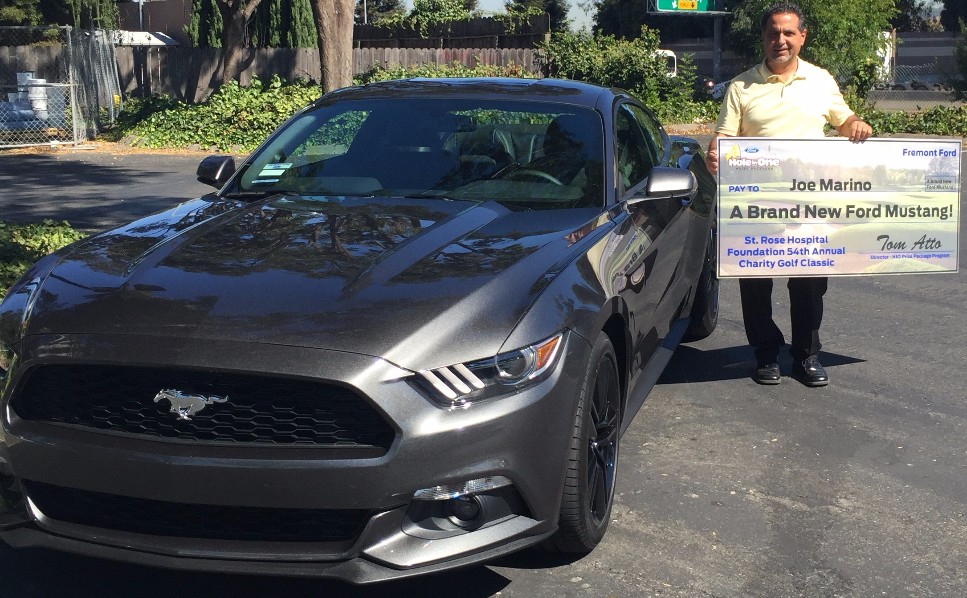 Stroke of Luck!
New Golfer Wins Ford Mustang Using Rented Clubs
It was a beautiful June day in Hayward, California when Joe Marino, a self-proclaimed 'novice golfer,' stepped onto the golf course with some rented clubs he had picked up to play in the St. Rose Hospital Foundation Charity Golf Classic. Eyeing the beautiful Ford Mustang that was displayed on the 11th hole, courtesy of Fremont Ford in Newark, CA, Marino and his work buddies got ready to take a shot for their relaxed, friendly game.
"The shot just kind of shot itself," explained Marino. "I don't really have much of an idea what I'm doing, so I picked out a club I thought was best and gave it a run!" He picked the right club. Marino's ball shot straight down the course and through the bushes. Once he and his buddies saw the flag wiggle behind the bushes, they knew it had gone in.
"It was kind of pandemonium after that", said Marino, as he and his friends went wild with celebration. Marino won a dark silver 2015 Ford Mustang from Fremont Ford in Newark, CA.
"It is awesome… it's an awesome car… I took it to get washed and a couple of people saw it there and said, 'Oh wow, that's a nice car.' So that felt good. I've driven the same pick up for about 8 years and I've always had a truck. In the 80's, I bought a new car out of school, but that was it. I really haven't owned a new car, so this was very different".
Marino said that this stroke of luck is not uncommon for him this past year - he recently won $11,000 on a slot machine in Reno last November. Maybe this is why his family wasn't all too surprised when he announced his hole in one win. They exclaimed, "of course you did!" Still, Marino insists that he was "totally in shock."
"I don't really think I'm a lucky person, and especially golf of all things, I'm not a golfer. I mean I might have golfed maybe a half dozen times in my life. So to hit the ball without dragging up a bunch of grass is good for me… I just looked at where it had to go and tried to get it there."
Marino described how everyone at the tournament was excited for him, and how the close knit hospital community could not wait to hear about his new prize. "Our hospital employs about 800+ people and I've been here about 20 years, so every time people saw me they would say, "Did you get your car yet?"
Marino did recently receive the car and said that when he drove it out of the dealer lot, it finally all sank in. "Until I got the car it was kind of a hazy time, once I took the picture standing in front of the car, I started to get really excited. Driving away with the car was just incredible… I was super excited."
Marino would like to thank the St. Rose Hospital Foundation for putting on a great tournament and for all of their help with the hole in one process. He would especially like to thank his director, Mike Cobb. "The tournament raises money for the foundation and they do a lot of great work… they help people that don't have insurance or have difficulty paying for medical care."
When Marino was asked if this hole in one win had sparked any changes in his life, he laughed and said, "oh yeah… I finally bought a set of golf clubs!"
Copyright © 2015, J. Ryder Group. All rights reserved.